Silent Sky Cast
A.G. Sweany
(Henrietta Leavitt)
A.G. is delighted to be performing in their first production with Chamberlayne Actors Theatre. They previously acted in RIPPLES IN THE WATER with the Richmond Fringe Fest (though sadly, the festival was cancelled due to the events of early 2020…) and Vera in THE METAL CHILDREN at the Shafer Alliance Laboratory Theatre at VCU. They studied Theatre Performance for one year at VCU before shifting focus to a career in field biology and conservation. Off stage, you can find A.G staring at plants, birding, and making terrible jokes. They would like to thank the wonderful cast and crew for their playful professionalism, and their friends and partner for all the support.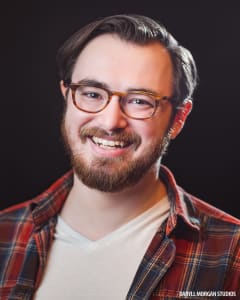 Colton Needles
(Peter Shaw)
Colton is thrilled to be a part of this amazing show! Past credits - Regional: The Legend Of Sleepy Hollow - Simon/Musician (Ohio Shakespeare Festival); Joseph And The Amazing Technicolor Deam Coat - Simeon/Potiphar (Wayne at Wintergreen Resort); They're Playing Our Song - Chorus, (Simon Fest Theatre Co.); Placebo - Jonathan (Yes And! Theatre); The Winter's Tale - Polixenes/Ensemble, The Seagull - Dorn, A Burial Place - Emmett (The Wheel Theatre Company); The Wedding Singer - Billy Idol/Ensemble, Assassins - Ensemble (NextStop Theatre Co.); God Is Dead And April's Getting Married - Elliot (Capital Fringe Festival); Hamlet - Rosencrantz/Fortinbras (Compass Rose Theatre). Special thanks to Amber and our little zoo.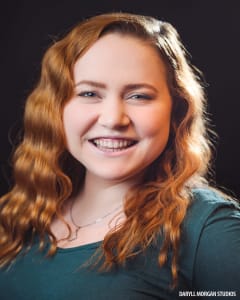 Amber Jones
(Margaret Leavitt)
Amber is an actor, director, educator, and international dog-spotter currently based in Richmond. She received her BFA in Classical Acting from Southern Utah University and her MFA in Shakespeare and Performance from Mary Baldwin University in partnership with the American Shakespeare Center. Recent acting credits include: The Merry Wives Of Windsor (Mistress Ford) with Richmond Shakes, A Gift Of The Magi (Della) with Flagstaff Shakespeare Festival, Give Us Good (Sambai) with Silk Moth Stage, As You Like It (Phebe) and The Revenger's Tragedy (Castiza/Spurio) with Polaris Shakespeare Company, Tartuffe (Mariane) with Perisphere Theater, The Cherry Orchard (Anya) with Faction of Fools, The Seagull (Medvedenko) with The Wheel Theatre Company, and The Foreigner (Catherine) with SimonFest Theatre
Sandra Clayton
(Annie Jump Cannon)
Sandra is delighted to be back at CAT. A Richmond native she has been active in Richmond Theatre for close to thirty years. She was seen most recently in HTC's Production of The Outsider. Her other credits include Mrs. Sandry in The Grapes of Wrath, Sister Mary Amnesia in Nunsense, and Jerri Neal in The Dixie Swim Club at Virginia Rep, Fort Lee Playhouse, and CAT respectively. She sends much Love to her Leading Man, Charles.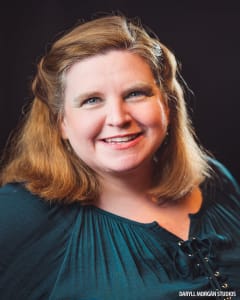 Sharon Hollands
(Williamina Fleming)
An Actor/Interpreter at Colonial Williamsburg, Sharon is glad to have the opportunity to move a bit forward in history. Favorite roles include Lettice Douffet in Lettice & Lovage (Panglossian Productions), Doris in Same Time, Next Year (Theatre Co. at Fort Lee) & Amy in Company (Williamsburg Players). Love to Neil.