The AAMU Bulldog Players Season
The AAMU Bulldog Players is a student organization at The Alabama A&M University that is housed in the Johnson Little Theatre, in Morrison Fine Arts Building on campus of The Alabama A&M University. We create theatrical presentations, full productions, and offer performance training. Theatre professors, Jill Balch Coon and Danita Jones lead the organization and serve as Communications Media Arts Professors for the Production and Performance concentrations. We are delighted to share our exciting season celebrating "Creativity". We hope you'll join us "On The Hill" for our great mix of classic and new works. The Bulldog Players start off supporting our resident Shakespeare group, The Bulldog Bards, directed by Professor Jill Balch Coon and housed at the Orion Amphitheatre, with a 45 minute - 1 hour production of Much Ado About Nothing. Next, students will write, direct and perform in a festival of 10-Minute Plays - complete with an awards ceremony. In February, Professor Danita Jones will direct our August Wilson Festival - complete with showcasing scenes from several works from "The Century Cycle" and a panel of special guest speakers. The Bulldog Players end this 2023-2024 season with our 2nd annual Flex Your Film Festival: a festival of student written, produced and performed short films - complete with - you guessed it - an awards ceremony! Please join us for a creative, celebratory season of theatre "On The Hill".
Active Fundraisers
We're currently raising money! Visit the fundraising pages below to learn more.
Help The Bulldog Players Get "On the Road"
Please consider making a donation to help The Bulldog Players get "on the road" to theatre conferences and performances during 2024. We are preparing to send students to the URTAs to audition for theatre and film graduate school, SouthEastern Theatre Conference for workshops, networking and auditions and NADSA conference at Howard University to build networks and compete! The Bulldog Players promise to make you proud and 100% of your donation will go straight to these talented performers!
Learn More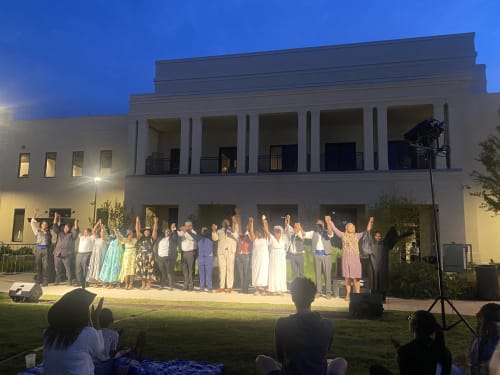 Flex Your Film Festival
Mar 23, 2024