About
Puccini Il Trittico (Il Tabarro, Suor Angelica, Gianni Schicchi)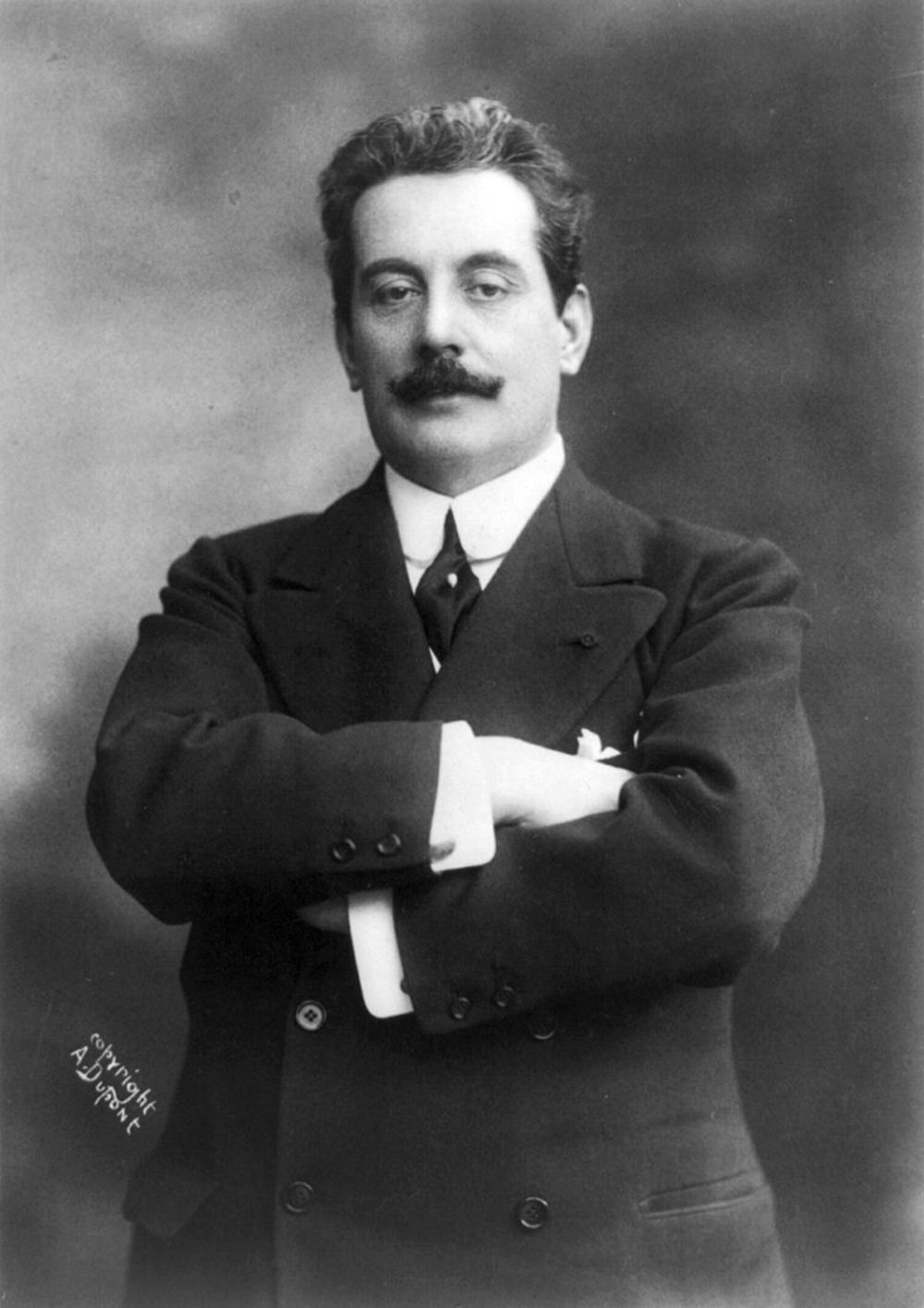 Il trittico: Il tabarro, Suor Angelica, and Gianni Schicchi
In December of 1918, Il trittico premiered in New York at the Metropolitan Opera House. This work is composed of three one-act operas, each concerning the concealment of a death: a horrific episode (Il tabarro) a verismo piece in the style of the Parisian Grand Guignol, a sentimental tragedy full or religious pathos (Suor Angelica), and an opera-buffa (Gianni Schicchi).
The History
Puccini had long considered writing a set of one-act operas which would be performed together in a single evening, but faced with a lack of suitable subjects and opposition from his publisher, he repeatedly put the project aside. However, by 1916 Puccini had completed the one-act tragedy Il tabarro and, after considering various ideas, he began work the following year on the solemn, religious, all-female opera Suor Angelica. Gianni Schicchi, a comedy, completes the triptych with a further contrast of mood. The score combines elements of Puccini's modern style of harmonic dissonance with lyrical passages reminiscent of Rossini, and it has been praised for its inventiveness and imagination.
"In the theatre, there are rules that cannot be ignored: arouse their interest, surprise them, make them cry or make them laugh." Giacomo Puccini used these terms to lay out the artistic principles guiding him in the conception of the Il Trittico (The Triptych) The plan for a work consisting of three one act operas back to the year 1900. Puccini returned to it out of a desire to illustrate three major forms of Italian opera: the tragic or verismo, the lyric, and the comic or opera-buffo. When he finally settled on the librettos for each, he added a social dimension to this tripartite conception with the depiction of three contrasting milieus: the lower-class life in Paris of 1900, the aristocracy of 17th century Italy, and the world of small landowners in Florence at the dawn of the Renaissance.
Puccini began with a dark verismo drama Il Tabarro, in the style of French Grand Guignol, continued with a sentimental tale Suor Angelica, and ended with Gianni Schicchi, in the "commedia dell'arte" style. Fully aware of the uniqueness of such a conception, Puccini was very clear from the very start that he wanted his Trittico presented in one evening. Most opera companies need to ask themselves certain questions when deciding on presenting these works. Does it require three separate casts, or performers capable of performing various roled in the three operas? Rendering the uniqueness of each opera plus the unity of the whole as desired by the composer proved to be a delicate undertaking: this explains why the three parts are often staged separately. The scores combine elements of Puccini's modern style of harmonic dissonance with lyrical passages reminiscent of Rossini, and it has been praised for its inventiveness and imagination.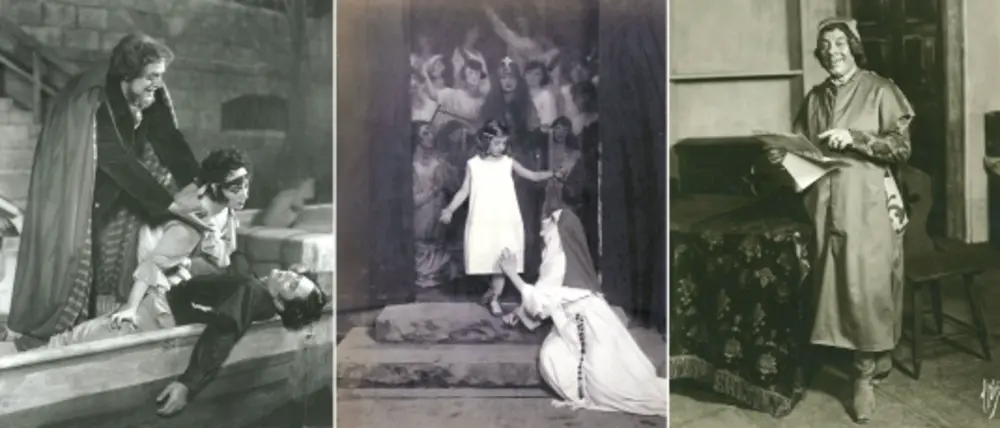 Performance history
The premiere was supposed to happen at the Teatro Costanzi in Rome but due to the First World War that could not be possible. It was therefore moved to the Metropolitan of New York where Il Trittico opened on December 14, 1918. The premiere featured the greatest stars of the time, Claudia Muzio starred as Giorgetta in Il Tabarro, Geraldine Farrar (the first American Madama Butterfly) created the role of Suor Angelica and Giuseppe De Luca created the roguish Gianni Schicchi.
The critical reviews for Il trittico were mixed; most critics agreed that Gianni Schicchi was the best of the three operas.
Il trittico premiered in Rome on 11 January 1919. Puccini, who had not been present for the New York premiere, attended the production at the Rome Opera House. The Rome production, especially Gianni Schicchi, received positive reviews. Later that year, the triptych was staged at the Teatro Colón in Buenos Aires (25 June) with the great Italian maestro Tullio Serafin conducting and in Chicago (6 December). In October 1920, when it premiered in Vienna two stellar singers appeared: Maria Jeritza sang Giorgetta and Lotte Lehman sang Suor Angelica. After the initial premieres, most opera companies began to stop performing the operas as a unit the way Puccini created them. Gianni Schicchi would eventually become the most frequently performed of the three.
Synopsis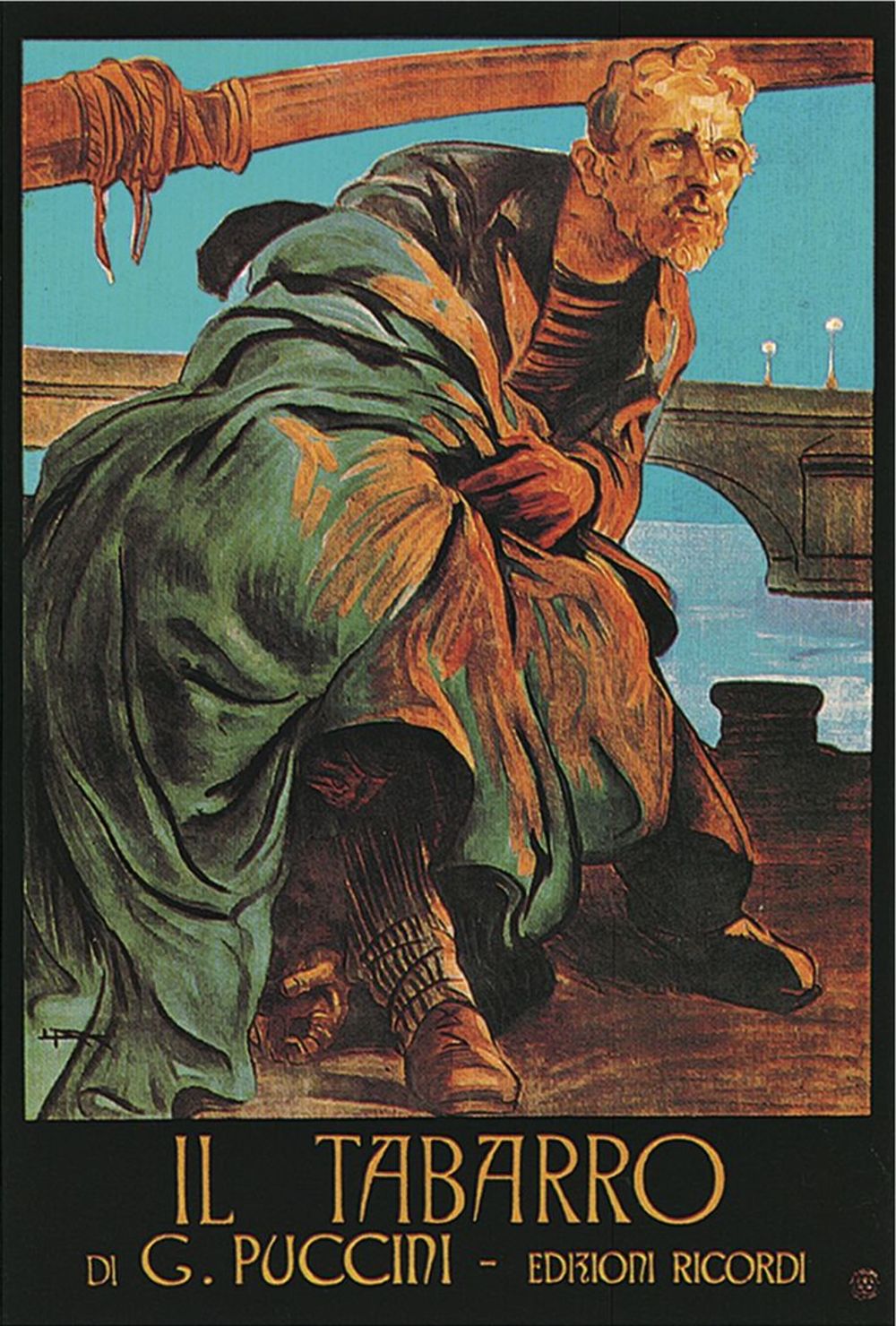 While the works are not connected through their plots and characters, Puccini had intended for each of them to relate to the canticles of Dante's "Divine Comedy;" only the third opera, "Gianni Schicchi," reflects this by exploring a historical case involving the Donati family, into which Dante married and whose protagonist actually appears in the Inferno.
Il tabarro
By the Seine River in Paris, dockworkers unload the barge of Michele. He permits his wife, Giorgetta, to bring wine to the workers but does not join in the fun when his wife refuses to kiss him. As the workers and Giorgetta dance, it becomes clear there is passion between her and Luigi, one of Michele's employees. Before things continue, the party is swiftly ended by the return of Michele. As work becomes harder to find, Michele and Giorgetta try to decide which of the dockworkers should be let go, this turns into an argument for the couple when Michele's first choice is Luigi, whom Giorgetta wishes to keep no matter what.
When Luigi asks for his employment to be terminated, Michele acquiesces to his wife's desire; he convinces Luigi to stay by telling him there is little work to be found in the city of Rouen. Later, when Giorgetta inquires as to why Luigi wanted to be let go, the two acknowledge their love for one another. They make a plan to meet again that night, and Luigi is resolved to kill Michele so that he and Giorgetta may run away together; the signal of this plan is to be the lighting of a match on board.
Michele reminisces about his past with Giorgetta and the child they lost. His faith in her shaken, he tries to figure out who could be her new lover but each man he considers seems unlikely. When Michele lights his pipe, Luigi believes this to be the signal and so heads to the barge to meet Giorgetta. A fight ensues between the two men, whereby Michele is able to get a confession from Luigi before killing him. The opera ends with Giorgetta returning to the barge, where Michele reveals to her the dead body of her lover.
Suor Angelica
In a convent near the city of Siena, the nuns gather on an auspicious day where the sunset turns the water of their fountain golden. After paying their respects to a deceased sister, Bianca Rosa, the nuns share with each other the desires they still have from their former lives. When Sister Angelica claims she has no desires, the others begin to doubt her; they know Angelica is from a family of nobility, and it is rumored that she was sent to the convent as a form of punishment.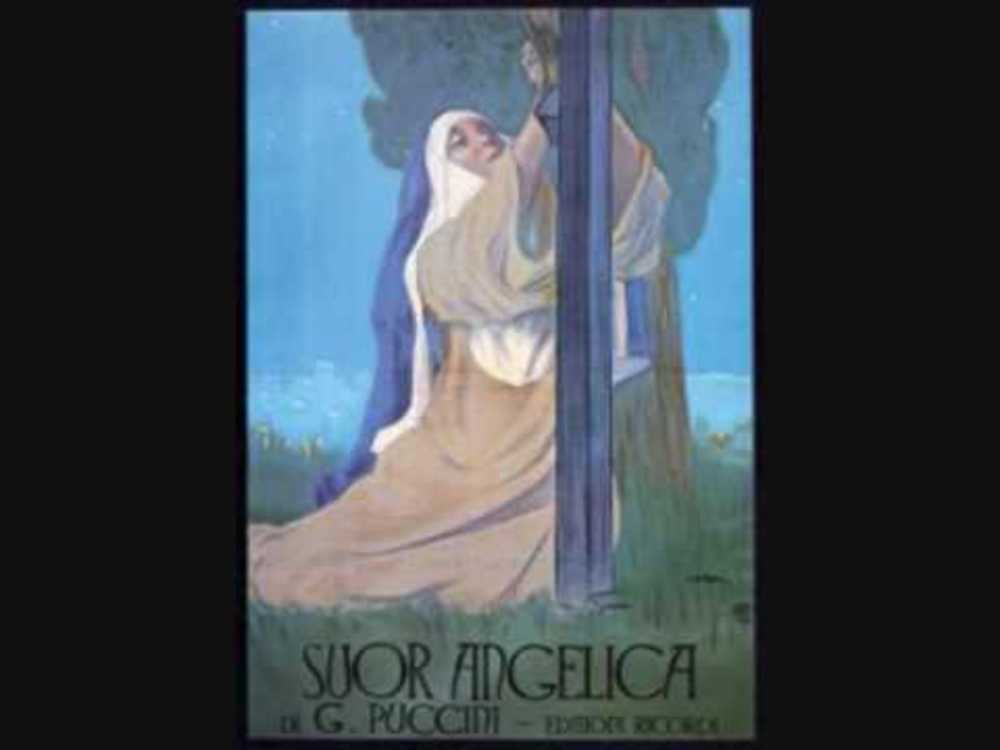 As Angelica makes an herbal remedy for a patient in the infirmary, a messenger arrives, announcing the presence of a grand coach. Angelica correctly guesses that one of her family has come to see her, and out steps the Princess, who is Angelica's aunt. She explains that Angelica's sister is soon to be wed, therefore Angelica must sign away any right she has to her inheritance. At first Angelica refuses, not for her sake but that of her illegitimate son, whom she has not seen in seven years. When the princess reveals that her son died of a fever two years earlier, a distraught Angelica signs the document before the princess departs. Swept up in grief, Angelica has a vision of heaven, where she sees her son beckoning to join him. To end her life she drinks poison, before realizing that by killing herself she will be barred from heaven, and thus her son, for eternity. In her last moments she pleads to the Virgin Mary for mercy on her soul; her prayer is heard as Mary appears before her and reunites her with her son.
Gianni Schicchi
The family of Buoso Donati gather round their now-deceased relative as he lies dead in his bed. Some mourn his passing but soon talk arises over the contents of his will and who will inherit his fortune. After a rapid search, the will is found by Rinuccio, the son of Buoso's cousin Zita. Before the will is read, he asks his mother for her permission to marry Lauretta, daughter of Gianni Schicchi, a commoner in Florence. Zita tells Rinuccio that if Buoso has left him his fortune, he will then be wealthy enough to marry whomever he desires. Rinuccio joyfully sends for Schicchi and Lauretta. The relatives are distraught to learn that Buoso has arranged for his money to go to the local monastery.
When Schicchi and Lauretta arrive, he soon understands the situation at hand but is harshly dismissed by Zita, who looks unfavorably upon someone of Schicchi's standing. He is convinced to lend his services when Lauretta pleads with her father, singing "O mio babbino caro." After reviewing the contents of the will personally, Schicchi devises a plan, but first sends his daughter outside. After moving the body of Buoso to a different room, Schicchi enters the bed and impersonates him during the visit of a doctor. When the doctor leaves, fully convinced Buoso Donati is still alive, Schicchi then readies to dictate the writing of a new will, one that will bestow various gifts to the now-excited relatives. Before doing so, he warns the family of the penalty that falsifying a will carries, namely exile and the loss of a hand. When the notary arrives and Schicchi begins to allocate Buoso's wealth, he grants to himself Buoso's house, his mule, and his mills, infuriating the family as they have no choice but to maintain the charade. When the notary and lawyer depart, the family is then chased out by Schicchi, as he is now the rightful owner of the house. Lauretta and Rinuccio are now free to wed in peace, due to her newfound status, and Schicchi remarks to the audience that this is the best use of Buoso Donati's wealth.
SAS Performing Arts Company & Studios, Inc.
SAS Performing Arts Concert Opera focuses its efforts to promote the operatic art form by bringing this music, in a concert format , for audiences to enjoy thus enriching the community's cultural life. Our concert format accompanied by two pianos, in conjunction with the use of English surtitles, makes this intricate art form more accessible to our audiences We anticipate the exhilarating connection generated between music, text, and drama will become more immediate in an intimate, up-close atmosphere.
We program performances of acknowledged masterpieces as well as rarely performed works that deserve a more extensive hearing. SAS Concert Opera introduces the brilliant talents of emerging artists, together with professional opera singers. Our season is comprised of complete concert operas, young audience events, and concerts.